Hey everyone! Have you made sure to check out my second sponsor feature? If not keep on scrolling :)
Anywho! I have decided to start a weekly link up! I know its short notice so don't feel like you need to link up this week (if you want to I'll love you for it!) but make sure to link up next Wednesday!!
Lately I haven been finding myself wishing for certain things! Some random, some meaningful! Some I can do something about, some I can not control! So I figured it might be helpful to write them out and maybe it will be motivation to change the things I can, and get the ones off my chest that I can't!!
So here is my first I wish Wednesday!
I WISH that all the items of clothing and accessories that I pin on pinterest would automatically put themselves in my closet!
I WISH Southern Alberta wasn't so freeeaking windy! Seriously peeps we have a highway wind warning at LEAST once a week. And for someone who drives a car made out of tin that can barely stay on the road as it is...it's not a good thing!! Also...now ok I'm gonna sound like a sissy but who wants to do their hair when you know it is going to get blown to smitherines as soon as you step foot outside! Not this girl!
I WISH April 16th could come a lot sooner...that way I would be on the beach loving life!!
I WISH I had a job that I could wake up and be excited about! WHAT? you mean I'm not excited to look at peoples mouths all day? Call me c.r.a.z.y. but it's just not that fun! I know that it's not common to have a job you love, and it's just a job, and yadda yadda, I've heard it all! But I believe that it's possible! I'm gonna get there!
I WISH I could get rid of the dark circles under my eyes! Those things are an eye sore...pun intended!
There you have it! My wishes at the moment!! Feel free to link up!! It feels good! :)
Oh and grab the button!!
XOXO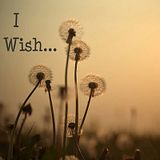 <a href="http://tippeecanoe.com" target="_blank"><img src="http://i1107.photobucket.com/albums/h382/locoop17/th_wishes.jpg" height="150" width="150" border="0" alt="Photobucket" /></a>