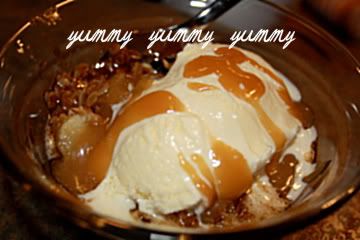 Sooooo Sunday was FAN-freaking-tastic today! It was honestly meant for me this week! which is so nice when that happens! :) Smiles all around!
Anywho! To complete a wonderful Sunday...whats better than a scrumptious dessert! Nothing you say? Well alright then I will share with you a truly sublime one!
Ingredients
4 cups diced apples(skins off)
1 tablespoon flour
1/2 cup sugar
3/4 cup brown sugar
1/3 cup butter
3/4 cup oatmeal
1/4 teaspoon baking soda
1/4 teaspoon salt
1/2 tsp cinnamon


Instructions
Preheat oven to 350 F. Combine the first 3 ingredients and place in a greased 8×8 baking dish.
Combine the remaining ingredients and sprinkle over the top of the apple mixture.
Bake 30 minutes at 350. Serve warm with whipped cream or ice cream, or drizzled with caramel or honey. Refrigerate leftovers(if you have any!!)
Enjoy!!!!!
XOXO