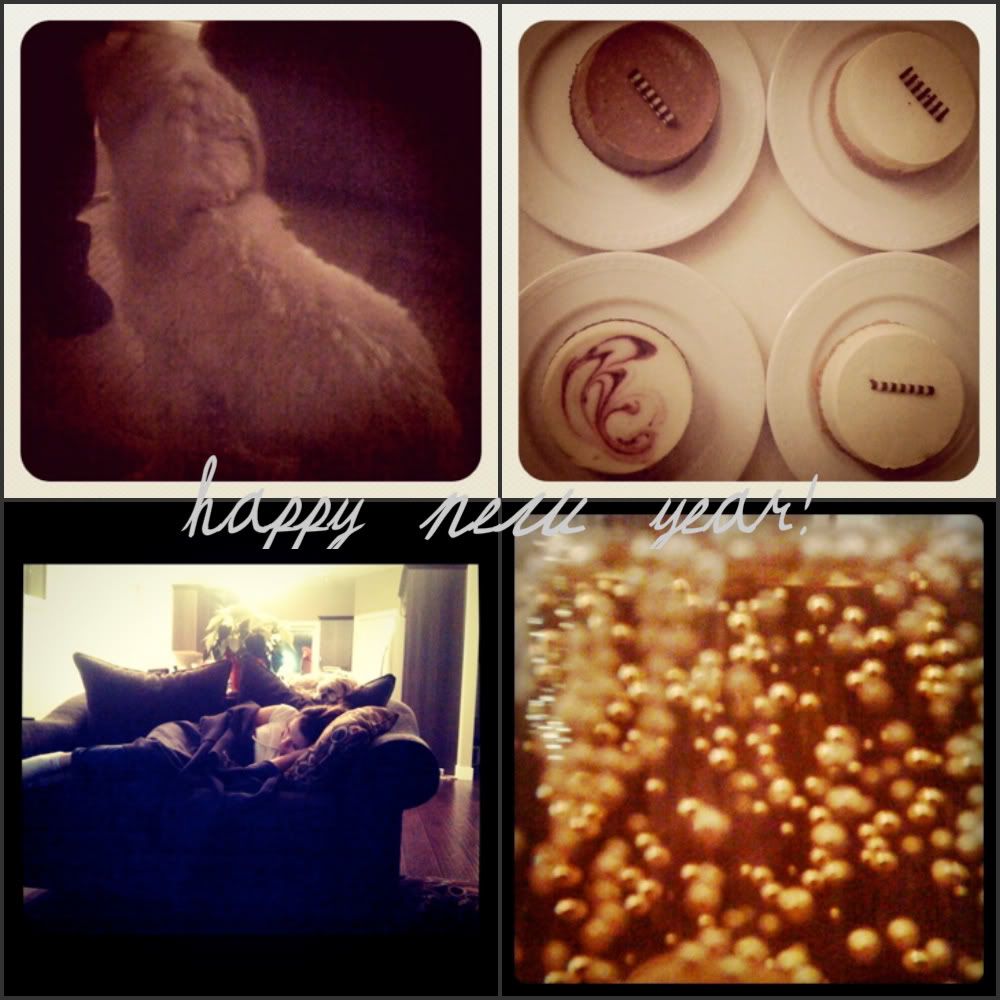 cute puppy, yummy cheesecake,
naps before the ball drops, some bubbly of course!
There's just something about the start of something new! Something invigorating about a new year...remembering the good and leaving behind the bad! Being able to set new goals and dream new dreams! It's brilliant really!
You KNEW You Could Not Fail?
I know that New Years is sometimes known for setting goals and dreaming dreams that seem to get lost along the way, when day to day life and what is "supposed to be" takes over. But I think it's important to set the goals and dream the dreams and to do whatever it takes to make them reality, because obviously those are the things you know you need in order to feel more fulfilled and happy!
Be Strong
continue to work out 6 days a week. This has more to do with how this makes me feel than how it makes me look! I love knowing that I am doing something good for my body, inside and out.
Capture Beauty
I am determined to find something beautiful in every day! And when its something I don't want to forget I'm going to take a picture of it! This will also help me to progress in my love for photography!
Be Creative
This is what makes me the happiest and unfortunately tends to get put on the back burner when there are more pressing things to accomplish or you know, the day to days! But I am going to focus on practicing the guitar and learning to sew!
EMBRACE Challenges
They are inevitable along the way! So may as well just charge them head first, embrace them, and let them change me for the better! That's what they are there for anyways right?!
Give Freely
I want to help where I can. Volunteer whenever I am able. And to help unconditionally when asked. Or to help when I see someone in need. There really is something amazing that happens when you give of yourself and sacrifice your time to help others.
Be Accepting
Sometimes it's hard not to dwell in the past. Wonder how to fix things we can't. I am determined to be accepting of things that have happened, realize they happened not to hold me back but to propel me forward, and let them do just that! I will be accepting of where I am and what I am doing and what makes me happy! I will be accepting of my future and the good things to come and know that this is my path! I will love it! I will be me and I will love me!
Be Productive
I will work my B-U-T-T off so that I can make enough money for the trip to PERU next year with my Dad so we can do the service project we have been waiting so long to accomplish!
Grow
in all ways. Spiritually. Educationally. Personally. In relationships. Creatively.
Raise a puppy
This is really so that Bella can have a friend!...ok ok that and I just really need to finally do this one for myself! and a little fur ball that needs a good home :)
Bring it on 20-12! I'm ready for you!